Helmholtz Virtual ML Summer School 2020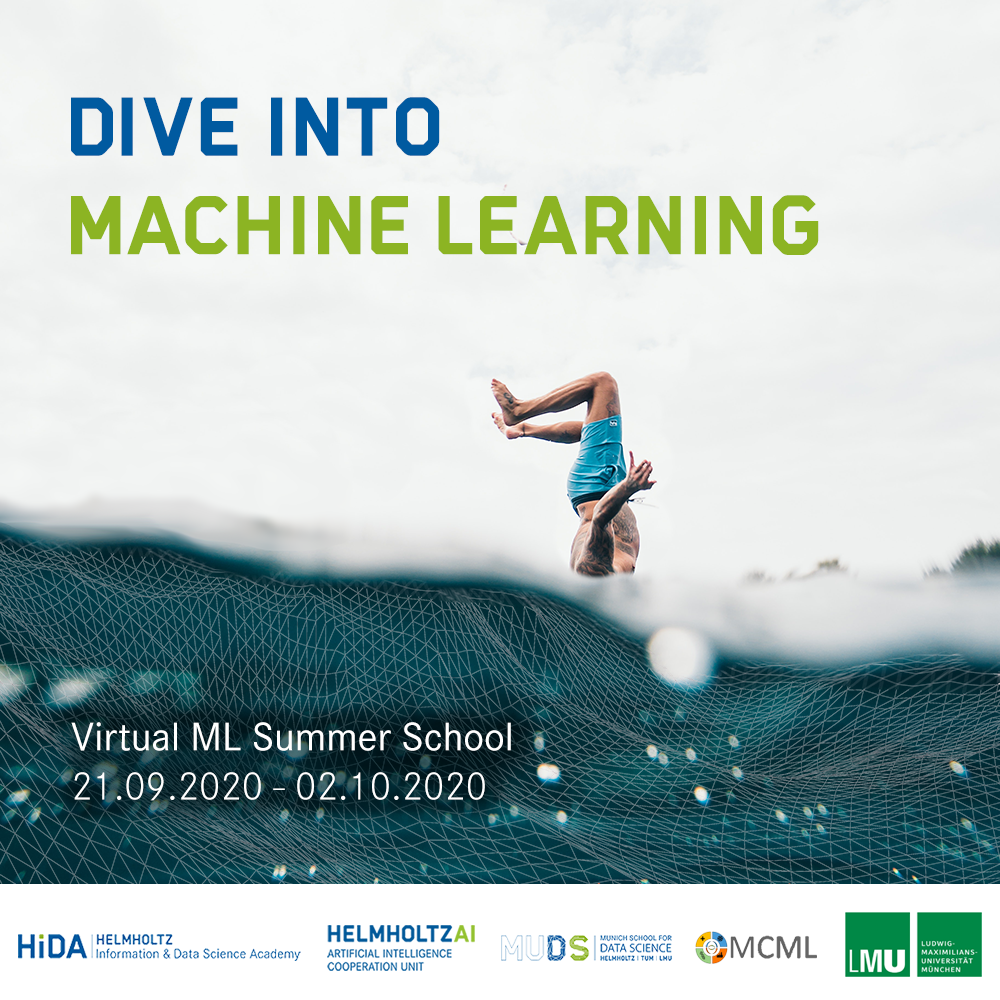 powered by Helmholtz Information & Data Science Academy (HIDA)
in cooperation with Helmholtz Artificial Intelligence Cooperation Unit (Helmholtz AI), Munich School for Data Science (MUDS), Ludwig-Maximilians-Universität München (LMU) and Munich Center for Machine Learning (MCML)
DIVE INTO MACHINE LEARNING
Core program of the Virtual ML Summer School 2020 is an introductory course to fundamental techniques and concepts of supervised Machine Learning, which has become a central part of modern data analysis.
In particular non-linear and non-parametric methods have been used successfully in uncovering complex patterns and relationships by computer scientists and statisticians.
Program
Sep 21 ML Basics + Supervised regression
Sep 22 Supervised regression
Sep 23 HIDA virtual career day
Sep 24 Supervised Classification
Sep 25 Supervised Classification + mlr3 keynote
Sep 28 Evaluation
Sep 29 Trees + Random Forests
Sep 30 Trees + Random Forests
Oct 01 Tuning
Oct 02 Practical Advice
The focus of the course is to give a basic understanding of the different algorithms, models and concepts while explaining the necessary mathematical foundation.
Participants will acquire theoretical as well as practical competencies regarding some fundamental models of learning from data. Also participants will be enabled to conduct a data analysis project, including understanding and interpreting the data, in order to critically judge the advantages and disadvantages of the different methods.
Prerequisites
The course is targeted at ML beginners with a basic, university level, education in maths and statistics:
Basic linear algebra: vectors, matrices, determinants
Simple calculus: derivatives, integrals, gradients
Some probability theory: probability, random variables, distributions
Basic statistics knowledge: descriptive statistics, estimators.
(Linear) modelling from a statistics perspective will help, but is not required.
Working knowledge of R
Trainers
Prof. Dr. Bernd Bischl (LMU Munich, MCML); Tobias Pielok (LMU Munich); Dr. Heidi Seibold (HMGU, LMU Munich, Bielefeld University); tba
The registration deadline is 31.07.2020. If the demand is too high, we will create a waiting list. You will be informed after the submission deadline whether a place is available or whether you are on the waiting list.
Helmholtz doctoral researchers have priority. We provide a limited number of places for external applicants. No fees!
Sign up for our newsletter HIDA update
MUDS, Helmholtz AI and HIDA are part of the Helmholtz Incubator Information & Data Science.