21.07.2021
Wednesday, 09:00
HIDA Virtual ML Summer School 2021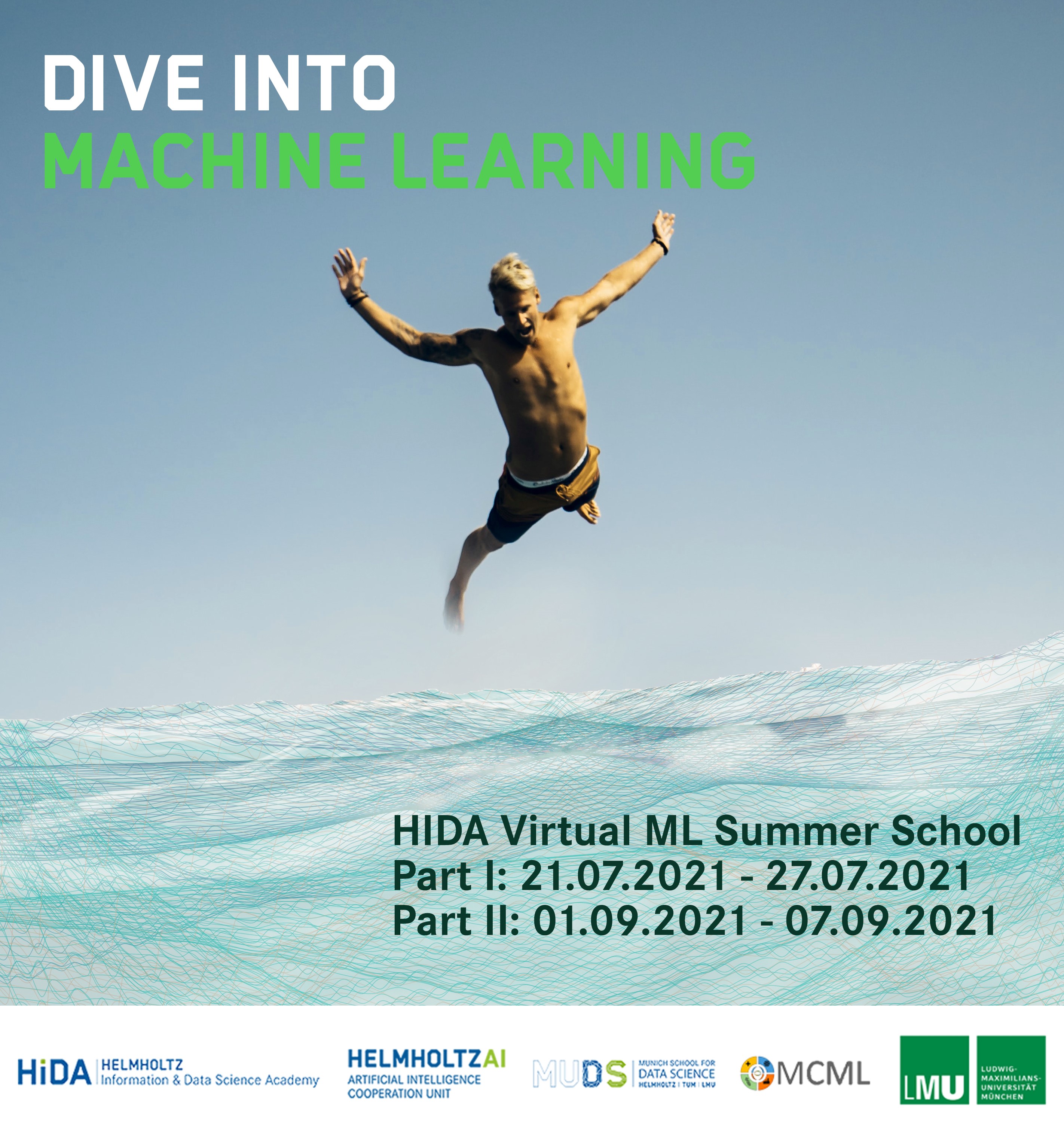 ++ THIS COURSE WILL BE TAUGHT IN ENGLISH ++
powered by Helmholtz Information & Data Science Academy (HIDA)
in cooperation with Helmholtz Artificial Intelligence Cooperation Unit (Helmholtz AI), Munich School for Data Science (MUDS), Ludwig-Maximilians-Universität München (LMU), Munich Center for Machine Learning (MCML) and German Climate Computing Center (DKRZ)
DIVE INTO MACHINE LEARNING
Building on the great response to the Virtual ML Summer School 2020, we are happy to offer this program in 2021 again.
The course is constructed holistically and as self-contained as possible, in order to cover most relevant areas of supervised ML. While the introductory parts are more aimed at a practical and operational understanding of the covered algorithms and models, we also include sound theoretical foundations and proofs in more advanced sections in order to teach ML theory as self-contained and precise as possible.
The course will be held using the flipped classroom method: Participants are expected to prepare course materials (videos, quizzes, online exercises) independently and at their own pace in preparation for the live sessions. Live online sessions and group work will be used to put the concepts learned into practice.
Live sessions will take place in two consecutive blocks. Participants sign up for both blocks.
Block 1 July 21- 27 2021 (weekend excluded), 9:30 am - 1 pm CEST
21.07. ML Basics
22.07. Regression
23.07. Classification
26.07. Classification knn
27.07. Evaluation + Helmholtz AI Showcase

Block 2 September 1-7 2021 (weekend excluded), 9:30 am - 1 pm CEST
01.09. Evaluation
02.09. Trees
03.09. Random Forests
06.09. Tuning + Helmholtz AI Showcase
07.09. Practical Advice
If you want to learn more about the content of this course, please check out the outline of the course here:
Introduction to Machine Learning (I2ML)
In addition to the course program Helmholtz AI Consultants contribute to the program by providing insight into current research projects and the application of ML methods, time & date tba.
Helmholtz AI Showcases
Jul 27
"Sparse predictive modeling of microbiome data"
Christian L. Müller (Biomedical Statistics and Data Science group @ LMU/HMGU Munich)
Sep 6
"Estimating ocean wind speed from space - deep learning for remote sensing"
Caroline Arnold (Helmholtz AI consultant @ DKRZ)
Prerequisites
Prior to the course, you will have access to the course materials and organize your learning time yourself: You can prepare individual topics the day before the live sessions or in the weeks before the course starts.
The course is taught in English and targeted at ML beginners with a basic, university level, education in maths and statistics:
Basic linear algebra: vectors, matrices, determinants
Simple calculus: derivatives, integrals, gradients
Some probability theory: probability, random variables, distributions
Basic statistics knowledge: descriptive statistics, estimators.
(Linear) modelling from a statistics perspective will help, but is not required.
Working knowledge of R.
References for Prerequisites
Trainers
Bernd Bischl (LMU Munich, MCML)
Ludwig Bothmann (LMU Munich)
Tobias Pielok (LMU Munich)
Assistants
Lisa Wimmer (LMU Munich)
Holger Löwe (LMU Munich)
Lennart Schneider (LMU Munich)
Registration closed
The program builds on the course Introduction to Machine Learning (I2ML) developed by Bernd Bischl, Fabian Scheipl, Heidi Seibold, Ludwig Bothmann, Christoph Molnar, Daniel Schalk and Tobias Pielok. Concept and materials are freely available under Creative Commons Attribution 4.0 International (CC BY 4.0). If you use the course, the initiators would appreciate a note!
Subscribe to the HIDA-Newsletter.
MUDS, Helmholtz AI and HIDA are part of the Helmholtz-Inkubator Information & Data Science.