Talk:
Transforming industrial processes with synthetic data
Thursday, 23.03.2023 · 11:00 am
online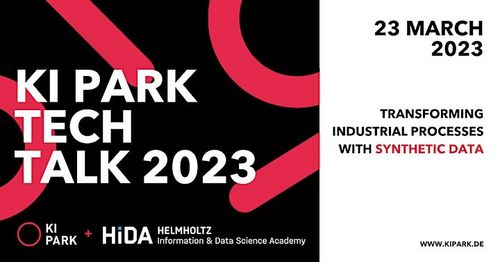 Transforming industrial processes with synthetic data
KI Park Tech Talk in cooperation with HIDA
Recent progress in generative AI models rised a lot of attention to synthetic data space particularly in the context of automatic audio/visual/textual content creation. This enables multiple applications in the industries as diverse as creative, retail, banking or digital therapeutics.
The concept of Synthetic data generally goes far beyond recent generative AI progress and gets widely adopted in the variety of industries in forms of Digital Twins, 3D assets, physics-informed AI models or agent-based modelling for large scale processes evaluation.
The speakers:
Marcus G. Müller is a researcher in the department of "Perception and Cognition" at the German Aerospace Center (DLR) since 2016 and Ph.D. student at ETH Zurich. He is the leader of the MAV Exploration Team at the Institute of Robotics and Mechatronics (DLR-RM), where he is working on autonomous navigation algorithms for MAVs. Before joining DLR he conducted research at the Jet Propulsion Laboratory (JPL) of NASA in Pasadena, USA, where he worked on visual inertial navigation for MAVs and on radar signal processing. Marcus received his Master's and Bachelor's degree in Electrical Engineering from the University of Siegen, Germany.
Mykola Maksymenko is an Associate Vice President of Technology at SoftServe, covering global Research and Development activities. His team drives research in applied science and AI, quantum computing, human–computer interaction, hardware prototyping and sensing. Mykola holds MBA degree and a Ph.D. in Theoretical Physics with research experience Universities of Magdeburg and Goettingen, Max Planck Institute for the Physics of Complex Systems (Germany) and Weizmann Institute of Science (Israel). He acts as a Director of Technology Management MBA program at Business School of Ukrainian Catholic University.
Presenter: Amulya Bondada
About the KI Park:
As an association of research institutions, startups, established companies, investors, social and political actors, KI Park e. V. pursues the goal of advancing the development and use of Artificial Intelligence so that Germany and Europe take a leading position as a location for technology and innovation.
The ecosystem enables its members to share knowledge, advance their ideas and solve relevant problems together in AI real labs. KI Park has a clear focus on those AI technologies that will significantly shape the future of industry and society, such as Deep Reinforcement Learning, 5G & 6G, NLP or even Digital Twins. More information about KI Park and the ecosystem is available at www.kipark.de.