15.12.2021:
Burning for research: doctoral studies at MUDS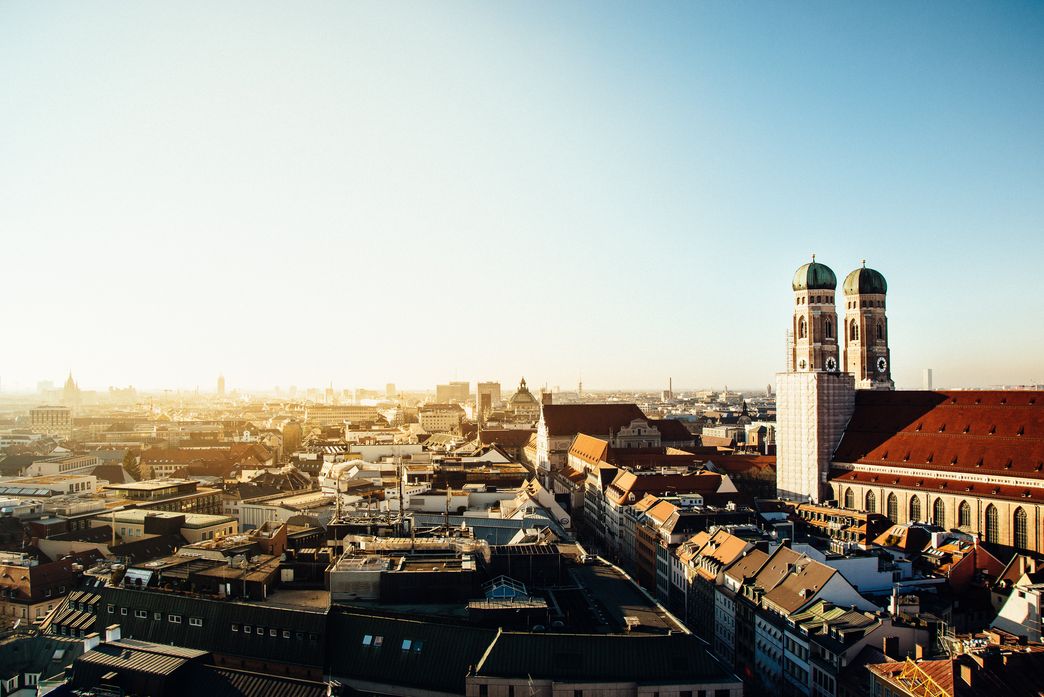 The Munich School for Data Science unites strong research partners and is thus a magnet for future data scientists in a wide variety of areas of application. The MUDS industry track gets companies involved in the training of doctoral candidates. Both sides, business and science, benefit from this cooperation.
When Dominik Winkelbauer visited the robot hall at the German Aerospace Center DLR in Oberpfaffenhofen near Munich, it just about blew his socks off. There was the lightweight rover, the silver-blue Mars vehicle that looks like a beetle with a long neck on four wheels. There were all the drones that will someday explore mountain ranges and perhaps space. There was the anthropomorphic robot called Justin, which looks like an elegant person without a lower torso or legs and impresses with its slender hands, human-like fingers, and stereo sight with two cameras in its metal face. Winkelbauer knew: "This is where I want to be." He started as a student trainee at DLR. Two years later, he had earned his master's degree in Computer Science from the Technical University of Munich TUM. Then his professor made a suggestion: "Do your doctorate at MUDS, the Munich School for Data Science." This would allow him to do research at DLR while being mentored by a data scientist and a physicist, attending special application-relevant courses tailored to the requirements of interdisciplinary collaboration, and earning a doctorate as part of an international community. "That won me over," says Winkelbauer.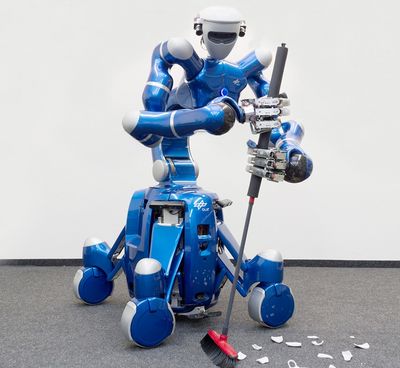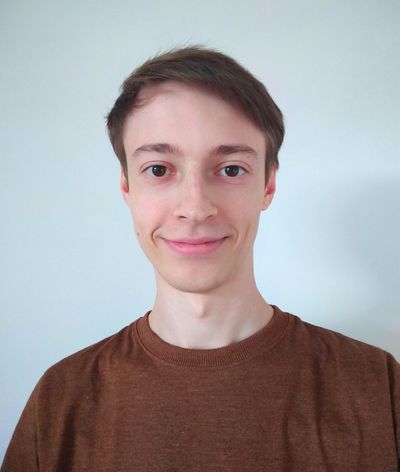 Munich Neuherberg, the long wooden building of the Helmholtz Munich Computational Health Center. This is where Fabian Theis works on mathematical modeling of biological systems and weaves the threads of innovative training for doctoral candidates such as Dominik Winkelbauer. It had long bothered him that doctoral training in Germany lags behind the international standard. "Graduate schools that focus on a systematic, interdisciplinary concept, recruiting doctoral candidates to teams of scientists and supervising them are the norm in the U.S. and the United Kingdom. Until ten years ago, most doctoral candidates in Germany had just one advisor, and that was it." How was he to secure such outstanding training for top young scientists, especially in such an explosive field as the data sciences? "This was especially difficult because Big Data and machine learning have become the fundamental engine driving research for almost all scientific disciplines, from biomedicine to computer science, physics to the social sciences."
Fascinating tasks for top data scientists
In 2019, MUDS was established as a cooperative effort with the Helmholtz Information and Data Science Academy (HIDA). HIDA is a Helmholtz Association initiative under whose umbrella six Helmholtz Information and Data Science Schools (HIDSS) have been founded. Theis developed the MUDS concept with colleagues. It is a graduate school that collaborates with the Helmholtz Munich, the TUM, Ludwig-Maximilians-Universität LMU, the DLR, and the Max Planck Institute for Plasma Physics. The program is a mix of MUDS courses, seminar series, retreats, and tailored combinations of offerings from internal doctorate programs at partner institutions and the other HIDSSs. Theis describes the goal as follows: "We want to train top data scientists by bringing method developers from the data sciences together with the application domains – this interface is where fascinating tasks that push our research forward are generated."
Munich School for Data Science
Munich School for Data Science
At MUDS, more than 70 doctoral students are currently conducting research in the application areas of biomedicine, plasma physics, earth observation and robotics. This makes the school the largest in the Helmholtz Information & Data Science Schools network.
Learn more about the MUDS here:

Those who generate and collect data cannot make progress if they cannot analyze it. Those with methodological expertise in analysis who cannot apply it to research questions are stuck in theory. That is why MUDS data scientists do their doctoral work at this interface in four areas: biomedicine, plasma physics, earth observation, and robotics. They are supervised by a principal investigator (PI) from the application domain in question and a method-oriented PI. The doctoral candidates' research topics are as diverse as the data at the partner institutes: Sometimes social media and satellite data is evaluated as new urban planning concepts are developed. Sometimes it is measurement data from plasma reactors for the advancement of energy provision using atomic fusion. Sometimes the goal is finding new methods of evaluating and processing patient data to enable precision medicine.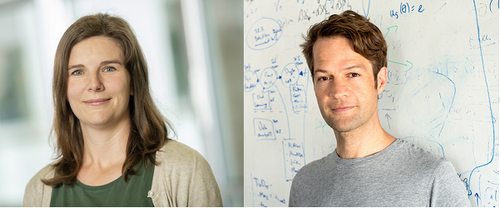 74 doctoral positions are currently filled at MUDS: 38 are jointly funded by the Helmholtz Association and partner institutions, and an additional 36 "associated doctoral candidates" are supported by various third-party funds – and the numbers are rising. Half of the doctoral candidates are international post-graduates. MUDS receives an average of 280 applications per round. Those who wish to advance through the multi-level selection process need more than just top grades and references – they also need to write a convincing essay in which they describe what they "burn" for, as MUDS coordinator Julia Schlehe puts it.
Interdisciplinary discussion is a necessity
Dominik Winkelbauer has been a doctoral candidate here since November 2020. At DLR in Oberpfaffenhofen, he is working on training a household robot arm to grip objects. It has to pour a glass of water without spilling, for instance. "This is a hugely complex task for a robot," says Winkelbauer. "If it had to calculate the right position for each finger, it would take three-quarters of an hour for each gripping motion – and would probably still spill a little." If a robot arm has to spray glass cleaner, the system is completely overwhelmed. Four fingers to hold the bottle, one on the trigger, the correct angle, the right pressure – impossible to calculate. So Winkelbauer trains his robot AI on learning-based models. He feeds in tons of data on examples of gripping positions and hopes that the AI will eventually learn enough to pour water reliably into the glass.
"Without exchanging information with the physicists at MUDS, I couldn't do this at all," says Winkelbauer. He needs good physical simulations to get his robot arm to grip. Every few weeks, Winkelbauer sits down with his advisors from DLR and the PIs from physics and the data sciences to look for solutions to his optimization problem, as the method is termed in the data sciences. The MUDS students present their papers to each other and discuss them at their weekly seminar or doctoral symposia. "It is amazing how often similar data science methods are applied to completely different problems in different fields," says Winkelbauer. "Data scientists work with optimization problems in plasma physics, too, for instance – so we learn a lot from each other."
The MUDS concept had been well received in industry, too. A year ago, MUDS introduced an industry track in which companies and scientists are brought together for new research projects. Roche, a pharmaceuticals company, and Boehringer-Ingelheim are involved, and five other companies are in negotiations. The first three additional doctoral candidate positions have already been filled and financed by the companies. Scientists from companies and universities supervise the young talent jointly. One example of this is Roche in Penzberg.
"MUDS, a graduate school, serves as an accelerator, giving outstanding talent a huge boost in just four years."

Manfred Wolter

Head of Department at the Bavarian Ministry of Economic Affairs, is convinced in an interview with Fabian Theis that the MUDS is an important element of AI promotion in Bavaria. Read more here
"New research ideas for the company"
Fabian Schmich is the principal data scientist there and heads the artificial intelligence (AI) network. "The cooperation with MUDS gives us outstanding people that we would otherwise have difficulty recruiting, even though we are a major player," he says. The competition is too great; too many companies and research institutes are looking for the top talent in the field. Schmich is now mentoring two MUDS doctoral candidates at Roche. He meets with them two or three times a week to discuss the following questions: What other methods could we try? How coherent is the new manuscript? Roche's focuses include the development of cancer medications. "We want to network with external research institutes to draw new interdisciplinary developments into the company's AI," says Schmich. Cancer research is also seeing a rapid increase in AI use, but routine business forces Roche, a medication manufacturer, to focus on application-oriented projects. "Special, deeper research topics or completely new approaches are usually too complex and costly to be worked into routine operations," says Schmich. "Collaborating with MUDS is thus a great way to bring new research ideas into the company."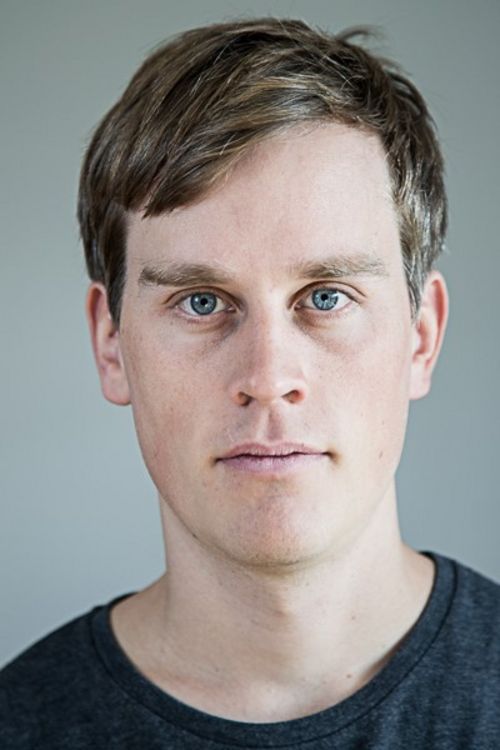 Schmich was himself involved in selecting the doctoral candidates. Before selecting them, suitable research fields were pinpointed within the company. What topics are especially relevant to us at the moment, how feasible is it to work on them within the context of a dissertation, and where can we offer optimum framework conditions? Since the end of 2019, mathematician Ali Bousheri and computer scientist Hugo Loureiro have been doing research at Roche as MUDS doctoral candidates. Bousheri wants to find out how immunological synapses form between cells and how the process can be affected by antibody medications during cancer therapy. Loureiro is analyzing digital patient files to generate electronic models that will predict the success of cancer therapies. The doctoral candidates spend half their time at Roche and half at the university.
Theis explains what he thinks is important here: "Our doctoral candidates don't do commissioned research for companies; they work with companies to write independent, publicly accessible papers." He calls this approach "collaborative projects". "The companies are partners that want to give something back to society and are not focused solely on commercial interests."
Theis has to leave soon. There is still lots to do; advancing his own machine learning research projects in biomedicine and expanding collaboration for MUDS. The two complement each other very well. He explains his vision for MUDS content: "Research that is reliable, generates machine learning solutions that are as transparent as possible, takes data protection seriously, and ensures discrimination-free programming and algorithms." And he describes his organizational vision: "A dynamic doctoral course at the highest level, ensuring research at the interface between data science and applied sciences."
Doctoral candidate Dominik Winkelbauer has another two or three years of intensive tinkering on his complex robot arm ahead of him. And after that? "I may stay in robot research, or I may switch over to industry. I could do a lot there with smart robots, and that is closer to application." Fabian Schmich of Roche can't imagine life without his two MUDS doctoral candidates. "We are very happy with their collaboration," he says. They will be finished in 2023. "If positions open up then, we would love to hire them right away." And then work with MUDS to find the next doctoral candidates.
Author: Anja Dilk